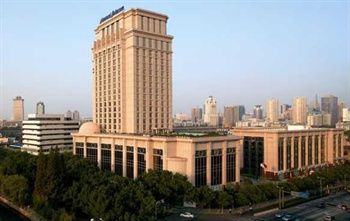 The Wyndham Grand Plaza Royale Ningbo is located in the city center and is a mere fifteen minutes to Tianyi Square and twenty minutes to the Ningo Lishe International Airport via car. In addition, the hotel is also right next to the lovely Moon Lake and the Tianyi Pavilion, the oldest library in China surrounded by traditional gardens.
Guestrooms are spacious, elegant and comfortable, exuding both a classy and modern charm. Along with being visually appealing and relaxing, the room is equipped with the modern amenities, such as broadband Internet access, a "Rainforest" shower and a variety of choices for pillows and mattresses.
There are multiple dining options guests can choose from, so the biggest question is this: what do guests want to try? There are two restaurants that feature Chinese cuisine, ranging from Sichuan to the local flavors of Ningbo. For something not as up-scale, there are delis and cafés where guests can enjoy a drink or a snack.
Business travelers can rest easy: A business center is open with the necessary services to assist with any guest's needs. Besides the center, there are also many different meeting and conference rooms that can be used for any event, all equipped with the basic conference facilities and with the help of event professionals.
As for recreation, guests can simply exercise in the fitness center, take a swim in the pool, or browse through the boutiques located within the hotel. In addition, the front desk is ready to assist guests with planning any particular trip outside of the hotel.